The book, With These Rings, is now available!
(Click here to buy the e-book)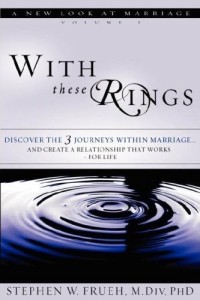 ---
Here's what people are saying about
With These Rings

"Dr. Frueh presents a new model for marriage that is compelling, inviting, exciting and real. He is a gifted writer and speaker. This will change the way you look at marriage."
— Gerd Jordano

"Using his vast experience, Stephen takes the standard premise of marriage and carefully and creatively repackages it to help the couple look at their relationship with different lenses and embrace it more authentically and intimately."
— Dolly Cowen, MFT, PSY.D.

"The 'With These Rings' model has brought us closer and offered us a great template to get through the tough stuff that comes up over time."
— Laura & Charlie McIntyre